Curb Appeal
Curb appeal is your only chance to make a great first impression on buyers from a street perspective. The positive and negative features that jump out at buyers form their first perception of your home and how you keep up your home's regular maintenance. Knowing this helps us to decide what actions we can take to invite buyers from the street and into your home. If your home's exterior isn't as neat as possible with refreshed paint and blooming garden plants we'll need to address those issues. Refer to the Curb Appeal Checklist and elevate your house's final selling price.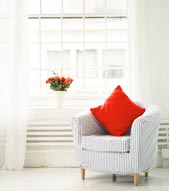 "Welcome to your new home!"
Does your house seem to say, "This is Your New Home" to a buyer? Looking through your house with a critical eye, we'll recommend arrangements that improve market appeal. We'll help you take away anything that gives the impression of clutter. Surface areas like tables, desks and counters should be free and clear. Brick-a-brack, sentimental items, family photos, and refrigerator artwork should get stored away too. You need to "generalize" the house so buyers can imagine it as their new house.
We'll review every room of your home. We'll point out the pieces of furniture that should be rearranged, rooms that need a fresh coat of paint, rugs needing to get changed, fixtures that need shining, and any other improvement that can quickly be made to positively affect the sale.
We'll ensure your home has mass appeal and that it's inviting, steering clear of "offensive" or "personalized" colors on the walls and furniture. And if you've already moved out, you can think about borrowing furniture. The goal is for your home to look homey as opposed to uninhabited.
Setting the Stage
At every showing, we're doing well if we're engaging the buyer's senses. Brightening up each room is critical, so we'll do things like open curtains and change light bulbs where needed to show off your home. Together we'll enhance the ambiance with enjoyable music playing lightly and assure a delightful scent circulates room-to-room. We'll incorporate cozy-looking bedspreads, and place pillows on your love seat and bed. Buyers should feel like your current home is their future home.