Save Money When Purchasing New Construction
When exploring newer additions looking for new construction, having a knowledgeable agent with you can be the difference between a good home buying experience and a bad one. is here to help you navigate the sea of new homes today to locate one that's been built for you.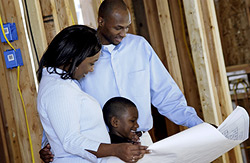 In real estate, you can always negotiate. However, with new construction, it depends on the builder and how long the home has been on the market. Developers in new additions avoid bending on price because buyers already in the area expect new construction to be comparably priced to what they already purchased. (You'll appreciate that same courtesy if there are undeveloped lots near the home you eventually purchase!) But, depending on how far along the project is and current market conditions, a developer will often allow a few concessions.
For example, if a property has been on the market a long time and the builder is deeply invested, then you have some room. The same goes for show or model homes that have been sitting for a while. However, if a home was recently finished, don't count on being able to get a deal.
In situations where a builder won't budge, ask for assistance in other areas. Ask for help with the closing costs, or additional amenities, like appliance upgrades, a garage door opener, a fence or landscaping, or an extended home warranty.Or take the contrary route. If a home is nearing completion, you can often save money by passing on suggested upgrades from the builder and installing things yourself.
Just because a house is brand new, it can still have its share of flaws. Be sure to get a home inspection before purchase so that issues are handled and also negotiate a home warranty. Then, about 10 or 11 months after purchase it's worth it to pay for an inspection and get anything else repaired before the warranty expires.